Decker Electric Residential Electrical Service
Little Electrical Jobs for Big Home Comfort
While Decker Electric is large enough to serve major industries and construction projects across the world, our roots are with providing top-notch residential electrical service to homeowners in and around Wichita, the town where our electrical shop opened and remains today 40 years later. We still are proud to provide quality residential electrical service to people across Wichita and central Kansas. Those homeowners who called us in the 70's and 80's for the electrical work needed to get that new air conditioner installed still call on us today to handle their lighting needs, electrical outlets, security systems and even for 24/7 emergency services.
As with just about any home, little problems tend to pop up that you might not be in a rush to handle right away. But eventually you may find yourself with a dozen little problems that, while bearable, have made life in your home more annoying and problematic than it should. Such was the case for Matthew, a new customer to reach out to Decker Electric for electrical work on his home in West Wichita.
Two-Way Switch Not Working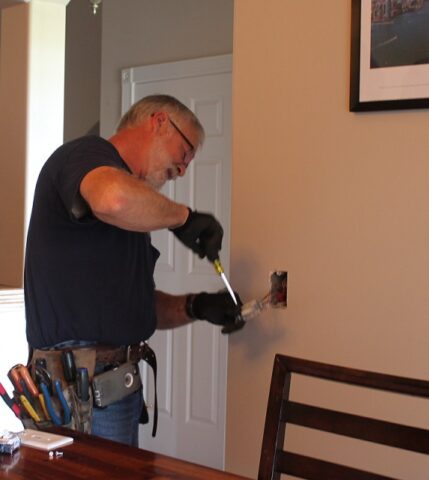 Matthew had an annoying problem. Apparently when his house was built 11 years ago, those electricians installed a two-way switch in his stairway that didn't work as it should. You should be able to flip either switch in order to turn the light off or on. However, a glitch in the system prevented that from happening. Instead, you had to ensure the switch at the bottom of the steps was in the off position before the switch at the top of the stairs would work in turning the light off. While this makes for great exercise, having to constantly re-walk down the stairs every time you realize the top switch isn't work can be annoying after a few months, and Matthew had been there for 5 years.
Within a few days of Matthew's call, we sent one of our many professional and friendly electricians out to his house to check it out. When he got the job done in well under an hour, Matthew realized there were even more small, yet annoying electrical issue in his home that our Decker technician could address.
Mysterious Broken Outlet
Several months back a section of his basement lost power. Matthew tried the normal fixes like flipping switches in the breaker box, but nothing worked. He and his family found workarounds to this power issue, but strewing extension cords across your room is neither a great fix nor a safe one. Our Decker electrician found the problem within minutes. An outlet was bad. He replaced the outlet as well as the faceplate and even added a faceplate where one was missing elsewhere in the basement.
Electrical Solution for a Pool Pump
But Matthew still had one more job for our technician to address. It wasn't technically a problem that needed fixing, but an electrical set-up that was making life more troublesome than necessary. Matthew told the Decker technician about an issue he was having with his pool pump. The pump needed to be run periodically and having to do that manually (and remembering to do it) was becoming a hassle and meant the pump wasn't being run as frequently as recommended. Our tech had the perfect solution. He had a programmable timer (right in his van!) that he could install into the exterior outlet for the pool pump that would allow Matthew to set a schedule for the pump to start and stop.
Decker has the Fix to your Home Electrical Issues
What started as a service call to fix one annoying problem led to our Decker Electric technician being able to fix three separate issues that the homeowner had been suffering with. Since our technicians are highly skilled with many years of experience doing a variety of service work, we are able to get the jobs done fast. The entire visit at Matthew's Wichita home took just about an hour.
What electrical problems in your home have been making life harder than it needs to be? What issues have you just been begrudgingly putting up with for months or even years? Often homeowners feel confident to handle a lot of home repairs themselves, but feel the dangers or complexity to making electrical fixes are too great for them to handle themselves. Fortunately, most of these home fixes are easy and quick for Decker Electric. Imagine having those annoying issues or broken outlets fixed in just an hour.
If you have issues or problems in your home, feel free to give our Service Department a call at (316) 858-0784. We would be happy to help solve your electrical problems or even to create solutions to making living in your home as easy and as comfortable as possible.