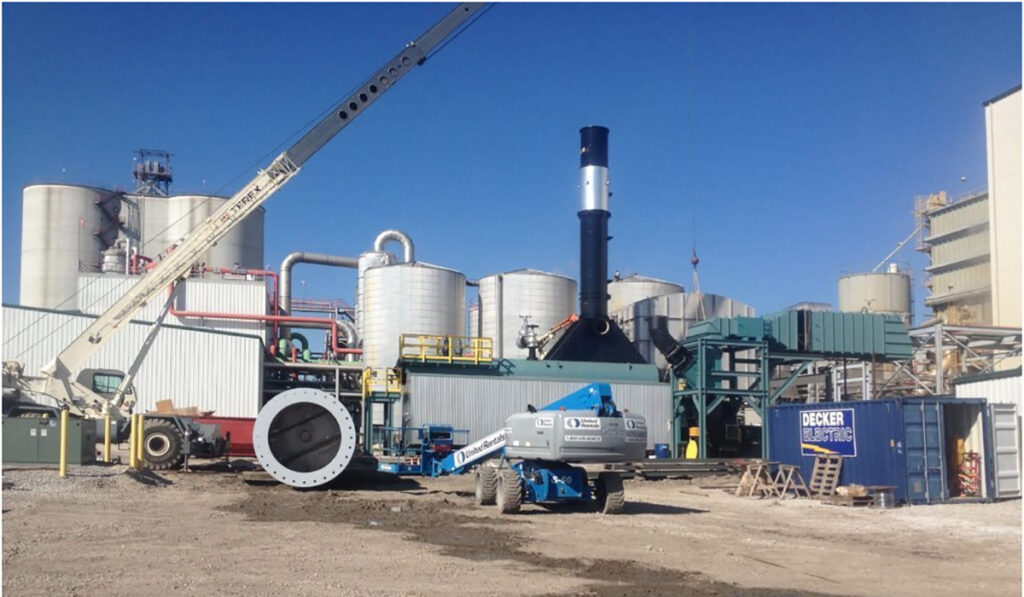 THE GROWTH OF DESIGN BUILD: TODAY & THE FUTURE
When Decker Electric was founded back in 1977, construction projects and demands were much different than today. As technologies and systems evolved to provide more efficient, timely and effective methods in construction, Decker Electric has adapted and even led the way in ensuring we provide the best service and end product possible for each of our clients and partners. One major delivery in the construction industry that is benefiting industrial plants, manufacturing plants, and even developers is the Design Build process.
Decker Electric has provided Design Build services to companies and individuals across the country for 30 years. Design Build is an integrated project delivery system that allows us as a single entity to coordinate, manage and operate the entire electrical construction process – from conceptual design to process startup or owner occupancy.
DESIGN BUILD'S GROWING POPULARITY
Design Build is rapidly becoming the preferred project delivery system for companies across the country. A study conducted by Fails Management Institute projected that Design Build projects would grow by 18% from 2018 to 2021, making it a $320 billion dollar industry. The areas most expected to see the greatest jump in utilizing the Design Build process include industrial, manufacturing and commercial.
---
There is good reason that Design Build is becoming a more sought-after construction model. Some of the benefits of Design Build include:
HIGHLY SATISFYING RESULTS
As Design Build continues to be the more preferred method with construction projects, people and companies who have utilized this method have been satisfied with the project. Compared to all other types of delivery methods, Design Build had the highest satisfaction rating. 76% of owners who had a Design Build project completed rated it excellent to very good. The reliability that Design Build project will be done on time and according to original designs is a driving factor in why many choose this method.
DESIGN BUILD DEMANDS IN THE MIDWEST & BEYOND
Here in Kansas, construction needs requiring Design Build are expected to increase on average with the rest of the country. But off just to our west in the Mountain region (Colorado, Nevada, Utah, Arizona, Montana, Idaho, Wyoming, and New Mexico), Design Build is expected to see its biggest growth here in the United States. Decker Electric has grown over the decades to provide services across our country, including Design Build in the Mountain region and states across America. This map shows the extent of our company's service coverage.
DESIGN BUILD: A HISTORY OF CONSTRUCTION
Up until the last decade or so, the Design Build method wasn't highly regarded among many in the construction industry or considered to be a novel alternative to traditional methods. With the growing conversation of how much Design Build has taken off recently as the preferred choice for new construction, it may seem that this is a new type of construction delivery method. It's not. In fact, the Design Build model has been around for over four thousand years! Trusting one group or individual with the entirety of a construction project is a method with great history of success.
DECKER ELECTRIC: YOUR DESIGN BUILD EXPERTS
We are committed to deliver your construction project to you successfully – on time AND on budget. To stay on top of all the growing demands, changing skillsets, and knowledge required to ensure we are utilizing only the most efficient and cost-effective methods in delivering a successful project, Decker Electric is a proud member of DBIA. We are the premiere choice for Electrical & Instrumentation Design Build needs here in Kansas, in the Midwest and even across the country.
DECKER ELECTRIC: OUR WORK
One of our first major design build projects was for ABENGOA on an instrumentation plant upgrade in 2013. Using this construction delivery method allowed for great customization and speed to market. In addition, this resulted in a cost savings and an end product that exceeded our client's expectations.
We have worked with various industries in producing Design Build projects. Other design build projects Decker Electric has handled include ICM's Corporate Headquarters in Colwich, Kansas, Green Plains Ethanol Plant, Hyper Pet in Wichita, Tyson Foods and KanPak. From manufacturing, ethanol plants, warehouses, food & beverage, engineering to commercial buildings, we have a large history of work that shows dozens of projects we are proud to have completed on time and on budget. The Design Build process allows our engineers, project managers, designers and our large experienced team of technicians to ensure the product, from top to bottom, has the level of quality Decker Electric is known for.
---
---
Contact us today to let us get started on delivering the Design Build services you need for your next construction project. Our experienced team makes Decker Electric a premier partner who will exceed your expectations. We are a large team with 14 project managers located in the heart of Wichita, just off Kellogg at the West St. exit.