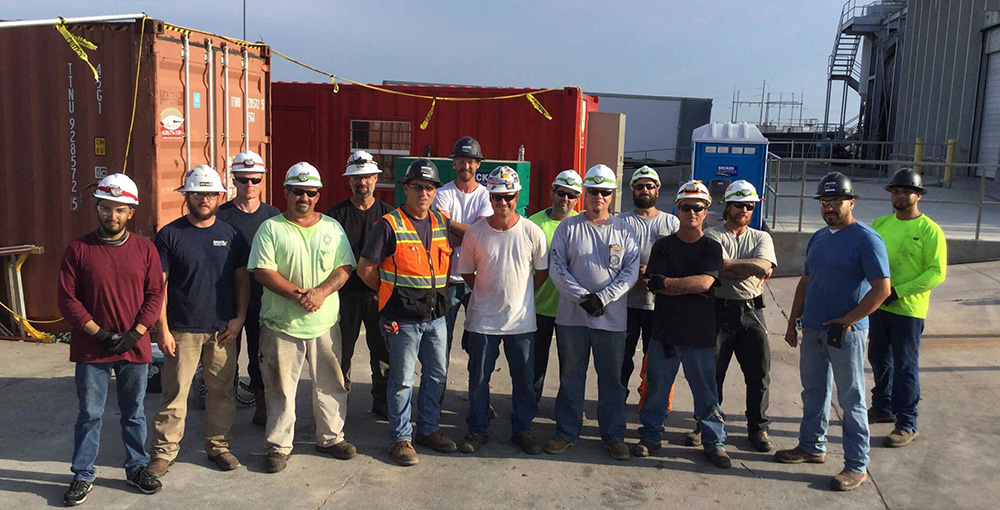 Tyson Holcomb Fire
On August 9th, 2019 the Tyson Foods Holcomb plant in Holcomb, KS suffered a devastating fire that burned up the mezzanine and two large panel rooms. The fire was so bad that it shut the entire plant down, and it will not be back up and running for several months. Decker Electric showed up within 18 hours of the fire being put out, and began to make-safe and lock out / tag out the services that had been damaged. Decker Electric then began to hook up temporary panels, temporary lighting, and office trailers. The following days have been filled with electrical demolition, installation of cable tray, and pulling wire to the areas that were being fed by these panel rooms. Decker electric has 14 electricians on site that are being led by general foreman Javier Ramos, and foreman Miles Cleary. The crews have been working 12 hour days for the last 2 weeks, and will be taking off Sunday and Monday of the Labor day weekend to get rested up for the days ahead of installing MCC's, Switchgear, PLC panels, lighting panels, transformers, and instruments. Thanks to all of the support staff who have been helping to keep material, tools, and billings going on this project.
After nearly 4 months of working 7 days a week, and 12 hours a day, Decker Electric is proud to say that we have helped to get the Tyson plant in Holcomb Kansas back up and running. Decker manned up to a total of 43 electricians on site at one point in the project and worked for nearly 4 months solid to be able to meet the aggressive deadline that Tyson had set to get the plant back up and running.
General foreman Javier Ramos and his crews not only met the deadline set but were actually able to get Decker Electric's work completed ahead of schedule. They were even able to lend a hand to other contractors that were needing assistance finishing up their tasks. As we were finishing the big work, Decker Electric had a crew of about 15 electricians on site finishing up with fans on the kill floor, lighting, convenience outlets, and other small items that need to be finished.
Special thanks to General foreman Javier Ramos, and his 4 foremen, Miles Cleary, Paul Riggle, Greg Evans, and Jason Sneed for their great leadership through this very important job.