INDUSTRIAL THERMAL IMAGING
Decker Electric's advanced technology can accurately detect problems and fix repairs to keep businesses in operation.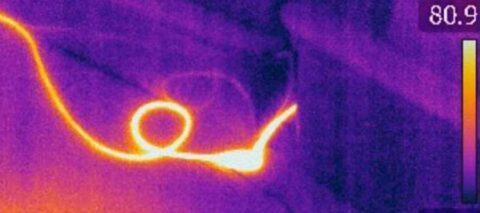 DECKER ELECTRIC PROVIDES THERMAL IMAGING SERVICES
Many electrical system problems are caused by excessive heating due to loose connections or excessive current flow.
Since 2007, Decker Electric has been using thermal imaging technology to identify issues before they become costly problems. With our infrared thermography capabilities, we can see these otherwise invisible thermal signatures to identify impending damage before it occurs.
Our capabilities include inspecting such components as:
Switchgear
Disconnects
Cables and connections
Circuit breakers
Transformers
Gear boxes
We have extensive experience with our specialized infrared equipment, making us your ideal partner for the identification and remediation of excessive heat and potential points of failure. Some companies Decker Electric is proud to have provided thermal imaging services to include:
Contact Project Manager Ben Wilson to learn how Decker Electric can provide you with our thermal imaging services. With more than 16 years' experience in the electrical industry, Ben is our Executive Director of Business Development and is one of our 14 highly experienced project managers. Decker Electric is located in the heart of Wichita, just off Kellogg at the West St. exit.